The speed of business in tech-dependent fields is rapidly accelerating in 2023. Following a slight slowdown in SaaS spending and IT investment in 2022 due to external economic conditions, experts predict the industry to bounce back strong. A forecast from Gartner predicts worldwide IT spending growth of 5.1% in 2023.
But that massive spending on software development is out of reach for a lot of companies looking for tech solutions that are both affordable and can go to market at a competitive pace. Fortunately, outsourcing software development offers a more affordable and flexible solution that lets these leaner brands stay in the game. Let's take a closer look at outsourcing in practice, how you can use it to your own advantage, and the factors to consider before choosing a partner in development.
Overview of Outsourcing
Outsourcing software engineering solutions is rapidly becoming a common practice for tech companies around the globe, giving them an agile way to create products, services, and even internal infrastructure to help make their company thrive. So what exactly does this process entail, and how can brands use it for their own gain?
What is Outsourcing in Software Engineering?
Outsourcing in software engineering is the process when companies work with third-party developers, consulting firms, or other partners to develop custom software solutions. Often, brands will employ outsourcing to access various kinds of technical specialists, bring in external expertise from highly trained professionals, and keep development budgets to an ideal level.
Software development outsourcing works in a few different models depending on the brand's needs:
Project-based model — brands work with consulting companies to identify and organize development resources for individual software products or services that are already planned and defined by your organization.
Dedicated team model— brands work with consulting companies to build a specific team of experts to develop branded software and receive ongoing technical support. This is ideal for longer projects with less definition or clarity of expertise needed.
Out-staff model — brands work with consulting and/or staffing companies to hire a team of one or multiple remote experts for software development, IT infrastructure, or ongoing support.
Potential IT Services to outsource
Depending on the partner you seek out, your company could use software outsourcing for a wide range of IT services and development. Whether launching a new product, implementing an additional service to your existing products, or even just seeking a faster solution to your existing processes, the best consulting companies will be able to find you the solution you need for almost any use case no matter the industry changes.
Custom software development:: From apps to in-house tools and more, outsourcing can help plan and develop key projects.
QA services and software testing: Outsourcing can provide an essential extra set of eyes to ensure quality across your products and internal infrastructure.
Cloud computing: Cloud platform solutions from outsourcing companies are becoming a hot item, providing fast service and making digital infrastructure more flexible.
Mobile and web development: No matter the platform, the right outsourcing partner can ensure your product or digital interface is optimized for the user experience.
IT maintenance and support: With a strong ongoing, businesses can use outsourcing companies to provide regular IT support and maintenance services.
Big data and analytics: Making sense of all the data you gather across platforms can be tricky — outsourcing companies bring on staff to collate and make sense of this information for your benefit.
UI/UX software design: Outsourcing companies can bring on engineers specialized in design to ensure a quality experience for every one of your users.
Minimum viable product (MVP) development: As a prototype of what's to come, outsourcing companies will help put together your minimum viable product so you can gauge the efficacy of your business concepts.
Benefits of Outsourcing Software Development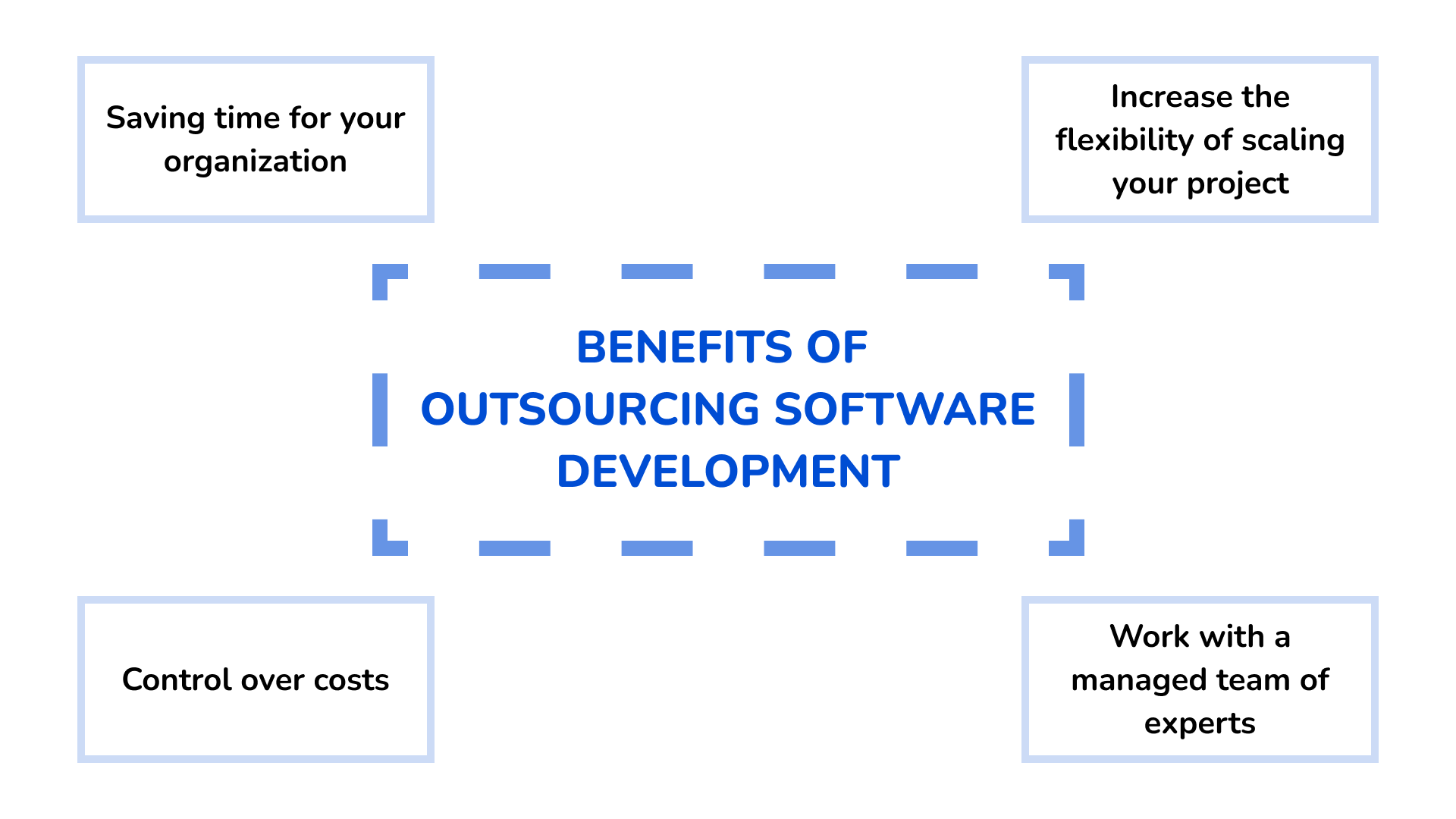 With more flexible planning and creative control, along with numerous cost-saving opportunities, outsourcing could be the key to unlocking the technical savvy you've been looking for, but may not have had the budget to fully hire an internal engineering team. Here are the biggest benefits of using this method:
Control over costs: From predictable billing to competitive rates, good outsourcing companies will ensure clear cost transparency so you're always on top of your budget.
Gain access to world-class capabilities, experts, and technologies: Rather than build out your own Rolodex of potential solutions, outsourcing companies help identify the necessary capabilities and bring in the experts and support tech to achieve your project goals.
Saving time for your organization: Using outsourcing removes the burden of tracking down and hiring specialists, letting you focus on your core business while the external agency ensures quality team members and product support throughout the project. In doing so, you'll accelerate your go-to-market timeframe and get completed products and services out the door much faster.
Increase the flexibility of scaling your project: Trying to develop software internally, especially with an under-skilled team, forces you to create projects that don't have the ability to scale as your business does. Outsourcing helps deliver more flexible outcomes that offer timeless solutions to your business needs.
Work with a managed team of experts: Outsourcing comes with built-in, proven workflows and processes that bring increased efficiency to your technical operations while decreasing the chance of risk thanks to tried and true development methodologies.
Providing all necessary IP and security rights: With the right outsourcing partner, strong IP protection and data security ensure you achieve the solutions you need without sacrificing what's essential to your business.
Things to Consider When Outsourcing Software Development
Even with all the potential upsides that outsourcing software development can bring to lean, fast-growing tech businesses, leaders still need to seriously consider some other outlying factors and ask the important questions. Be sure to review these callouts before you start your next project.
Choosing the right outsourcing partner: With numerous options available on the market, sifting through the options can feel like a daunting hiring task all its own.
Communication and cost transparency: Though often a cheaper solution, outsourcing can quickly get expensive if you pick a partner that fails to stay transparent and keep you up to date on development.
Delivered products and services: When brands don't outline guidelines for quality of code and documentation, timelines, and other aspects of service development, the outsourced team will struggle to meet these unclear demands.
Issues with different locations and cultures: From various time zones to language and cultural barriers, the international aspect of outsourcing teams can make cross-team communication trickier. This is especially true if you don't have the product management processes in place to stay on top of everyone, making team oversight particularly essential for managers.
Security and confidentiality: Almost every well-reviewed outsourcing company will provide assurances of security and confidentiality, but bringing on third-party assistance will still always add an element of risk when it comes to your information.
Tips for Successfully Outsourcing Software Development
Now that you've weighed the advantages and disadvantages of outsourcing software development, you still need to do your due diligence as a tech leader and pick the best external solution. Here are some essential tips to keep in mind:
Define your business goals and ideal technology stack: Be sure to understand exactly what it is your company needs with this project, gauging your existing infrastructure to see where your current skills fall short.
Choose the outsourcing model that works for you: Do you need one-time assistance or ongoing support? Choose between a project-based, dedicated team, or out-staffed model.
Choose an outsourcing software development company: Picking the right partner is perhaps the most crucial choice of all — and encompasses these essential steps to follow as you make your decision:

Thoroughly check company profiles and verify their quality;
Put together a list of software vendor interview questions;
Look at examples of development outsourcing contracts and pricing;
Understand the culture of potential partners to see if they fit yours;
Check the security policies to ensure your IP and data are protected;

Set clear expectations from the start and communicate regularly: Working with an international team is tricky to begin with, demanding tech leaders make their expectations and goals as crystal clear as possible to prevent friction or technical failure further down the pipeline. In particular, make good use of project management tools to keep everyone on the same page.
Focus on scalability: Whatever technical solution you seek out, make sure it'll continue to serve its purpose even as your company scales upward.
Manage project scope, budget, and timeline in each iteration: Your SOW should clearly outline the details, expectations, and timeframe of development for each phase of the process. In addition, make sure you establish cost and budget transparency up front so you don't end up overspending.
Hiring the ideal software team
Talent selection is a crucial process on which tech leaders need to keep a close eye. Here's a short step-by-step guide to hiring your ideal team.
Step #1: Describe your needs
Evaluate what your business needs from a skills gap and technical prowess perspective, then make a detailed list of what those needs might be.
Step #2: Align your goals
As you interview potential partners and hires, make sure that their vision for success in a software development process is in lockstep with yours, including timetables for completing deliverables and expectations of quality assurance.
Step #3: Approve your team
Using the information you gather in the first two steps, work with your outsourcing consulting partner to select the optimal lineup of engineers, developers, and designers and move to start working on your project.
Step #4: Start your project with remote talent
From the first kick-off call, set the tone with your new team about your expectations — particularly how you plan to work together and communicate effectively to reach a quality outcome.
Outsource Software Development with Urchin Systems
From our superior expertise and extensive local and international resources, Urchin Systems provides custom business software development to bring your most ambitious projects to fruition. Working with us, we'll assist you in planning, sourcing, and building out all the great ideas that will take your brand to the next level. Here's what makes us such a uniquely qualified partner to help you do this:
We engage quality tech professionals: With a massive and constantly growing roster of domestic and international development talent, we find the perfect lineup of tech professionals to hit the ground running on your project.
We guarantee fast processes and turnarounds: From rapidly sourcing high-quality talent to delivering CVs within 3 days of project kick-off, our agile software development services ensure we work expeditiously to keep up with the brisk pace of tech development in your industry.
We offer a risk-free trial to start: To provide the utmost confidence in our services, we offer a 2-week risk-free trial to all customers out of the gate so that businesses who work with us feel truly taken care of.
Why Our Clients Decide to Outsource to Urchin Systems
With proven success in providing state-of-the-art technical solutions across industries, Urchin Systems has a proven track record of happy, high-performing customers.
As experts in the field of unemployment insurance, providing an essential service to their customers – UTMC needed a holistic end-to-end system to make their work more efficient. Originally working with disparate tools for managing unemployment claims, Urchin Systems came in to develop an interconnected solution that provided seamless integration between UTMC's internal Case Management System and a nationwide NASWA SIDES platform.
After a series of planning and development sessions between Urchin and UTMC, we leveraged a hybrid of the project-based and dedicated team model to flesh out custom software development and cloud computing solutions while providing an ongoing dedicated team of engineers.
Spruce is a revolutionary platform for document and mortgage approval in the real estate industry, and to develop their cutting-edge idea, they sought a top-notch development team to bring their vision to life.
Working together with Spruce, Urchin Systems out-staffed an engineering team sourced through a rigorous and highly selective interview process — the results brought a top-notch team of developers located in Colombia with excellent technical and communication skills, English fluency, and all full-stack engineers. With the help of Urchin's out-staffing process, Spruce had great confidence to create the disruptive solution that lived up to their promise to their VC funders and pushed them to a successful launch.
Outsource Software Development for Your Next Big Project
Ready to take the next big step toward realizing your most exciting software ideas? Reach out to Urchin Systems today and let's start building something great together.